News
MDA, Brampton, and Canada's Future Space Economy
Successful space manufacturing starts right here on Earth
In this episode, Nick and Brendan are joined by Mike Greenley, the CEO of Brampton-based space and robotics technology manufacturer MDA and Patrick Brown, the Mayor of Brampton. The conversation focuses on Ontario's role in the future space economy, developing a diverse and multi-generational workforce, and the advantages of advanced manufacturing in Brampton.
As Mike notes, the rapid development of the private space industry and the falling cost of rocket launches has created a range of opportunities for manufacturers. Many are related to satellite communications, observation, and data gathering, others are related to space tourism and in-orbit assembly and manufacturing.
MDA is currently hard at work on the Canadarm3. The manufacturing of this flagship product, which is ultimately destined for NASA's Gateway space station, will take place at MDA's new facility on the west side of Brampton. To accommodate their current growth, MDA has hired more than 1,000 people in Brampton and other facilities across Canada over the last 18 months, and they want you to know that they are not done yet. If you are looking for a rewarding career in the future space economy MDA is looking for you!
To foster further innovation and collaboration in Canada's space technology industry, Greenley and his team recently created the MDA LaunchPad. The LaunchPad (not to be confused with MDA's cafeteria, The Lunch Pad, pictured below) enables small and medium-sized businesses to collaborate with MDA on a series of space technology projects. These projects are valuable in their own right, and also contribute to the growth and development of a broader industrial ecosystem led by a Brampton-based Canadian advanced manufacturing champion.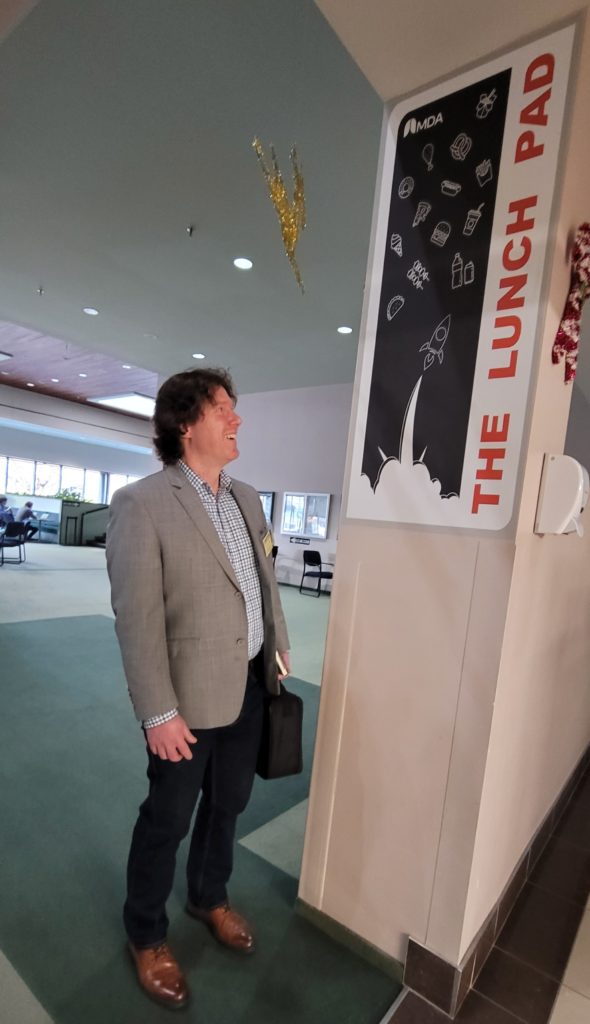 As Brendan mentions, the original 'Space City', Houston (or as we call it, Space City South), is often heralded as being the most diverse and multicultural metropolitan area in the United States. Is it a coincidence that MDA, Canada's national space champion, is located in what is by many measures the country's most diverse city? As Mayor Brown points out, the diversity that Brampton, and the GT(B)A, is known for offers advanced manufacturers a distinct competitive advantage.
Timestamp
00:00-03:41 – Intro
03:42-06:41 – Meeting the guests and introducing MDA
06:42-08:12 – Canadarm 3 and its lunar mission
08:13-10:21 – Brampton's role in the future space economy
10:22-11:37 – Using satellite imagery
11:38-15:03 – The transition to commercial space flight
15:04-18:27 – Employment opportunities at MDA and in the future space economy
18:28-20:42 – Brampton and the future economy
20:43-25:09 – What lessons does MDA have for other companies to diversify their workforce?
25:10-27:44 – Talking about employable land in Brampton
27:45-36:00 – Opportunities in the space economy and manufacturing things in space
36:01-36:46 – Canadian spaceports?
36:47-41:04 – The GT(B)A's manufacturing strengths and what they mean for MDA
Links
MDA.Space, MDA Launchpad
Invest Brampton
City of Brampton – Mayor Brown