Initiatives
How Linamar's Innovation Hub (iHub) is Commercialising Creativity
Rather than wonder who your customers will be in the future, grow them yourself!

In this episode, Nick and Brendan visit Linamar's Innovation Hub (iHub) in Guelph to speak with Brett McQueen, Director of Innovation, and Somila Kakshapati, Innovation Lead. The iHub (with 50,000 sq ft. of manufacturing space and dedicated staff) is part of Linamar's Vision2100. As Brett explains, Vision2100 is, "…a guide for the kind of company we want to be in the year 2100."
As part of Vision2100, Linamar is using the iHub to develop capabilities in six (critically important) manufacturing verticals:
Mobility
Infrastructure
Food
MedTech
Power
Water
The iHub will help start-up companies working in these fields to commercialise their innovations by providing assistance with engineering, supply chain, and quality control, as well as help with product scaling. The aim is to have these companies 'graduate' from small start-ups to fully sustainable companies with mature product offerings manufactured by Linamar.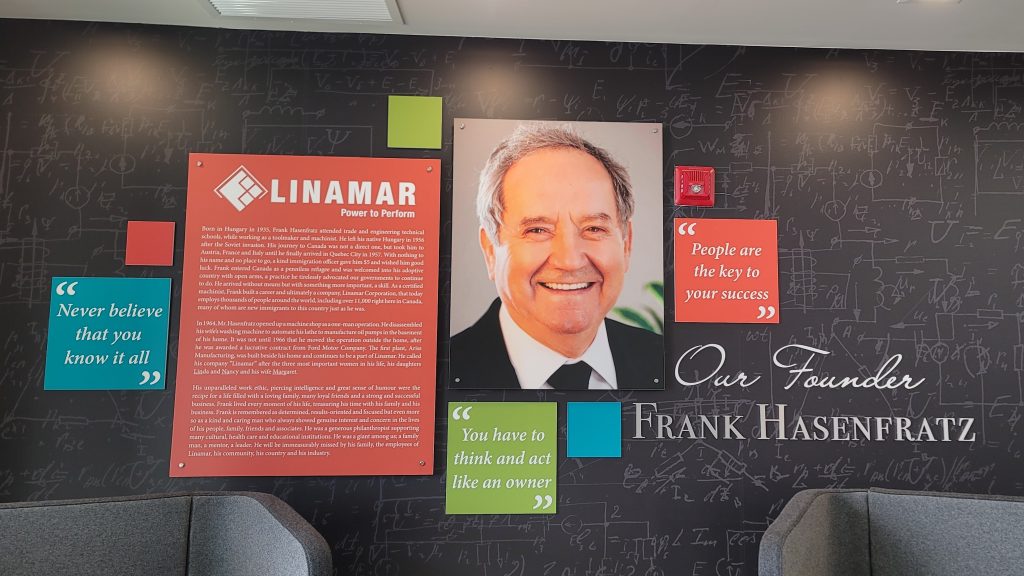 During the episode, Brett and Somila expressed their desire to talk to as many companies as possible and hope they "…won't be shy" about approaching Linamar.If you or your partners are within the six verticals associated with Linamar's Vision2100, they want to speak to you!
Have a listen.
Timestamp
00:00-04:11 – Nick's Intro
04:12-04:41 – Meeting the guests
04:42-08:21 – Quick history of Linamar and their capabilities
08:22-15:40 – Introducing the Linamar Innovation Hub (iHub) – the 6 new verticals
15:41-16:37 – Linamar and the City of Guelph – a long history & a bright future
16:38-19:40 – How the iHub hit the ground running during the COVID19 pandemic
19:41-22:15 – The challenges facing innovators & inventors, & how Limamar can help
22:16-23:44 – Discussing the Food Vertical
23:45-25:45 – Automobility & the iHub
25:46-30:04 – Linamar & their Municipal/Academic/Industrial partners
30:05-34:11 – Vision2100 – or – The importance of having a strategy
34:12-37:49 – How Brett and Somila got to where they are today
37:50-41:34 – Get to know the iHub! – or – "We want to meet startups" -Linamar
41:35-43:07 – What's next?
Links