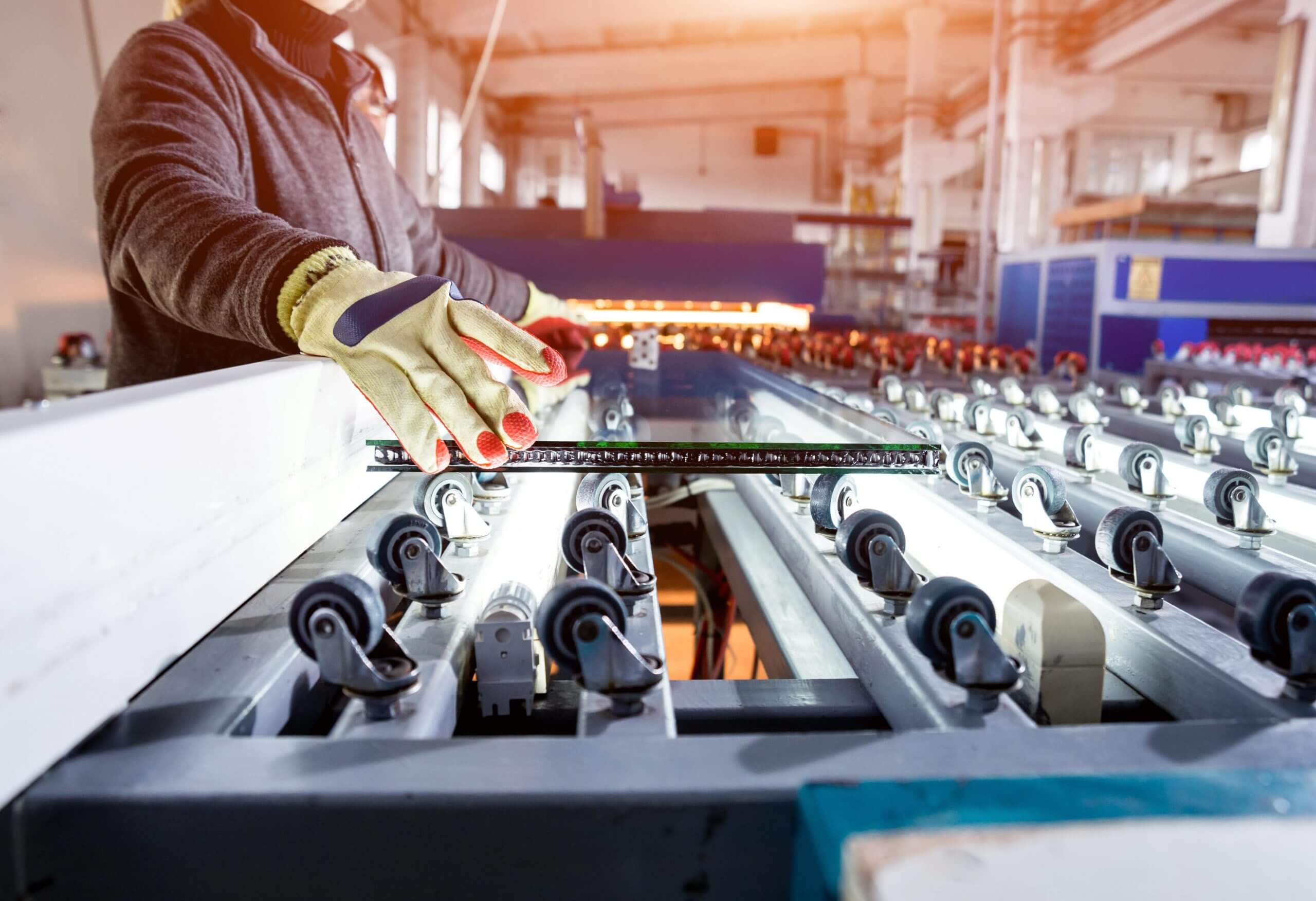 Stepping Up: Ontario Manufacturers Respond to COVID-19
The COVID-19 pandemic has reinforced the importance of Ontario's innovative and flexible advanced manufacturing sector, supply chains, and essential activities such as food, medicine, and medical device manufacturing.
Across Ontario, a wide range of manufacturers have pivoted in response to the pandemic, and are now manufacturing critical goods such as medical devices (e.g. ventilators), personal protective equipment (e.g. face shields), and cleaning supplies (e.g. sanitizer). Many more are actively pursuing opportunities to shift production to help mitigate the effects of the COVID-19 pandemic. These manufacturers are diverse in size and scope, and range from large multinationals to small locally-based breweries and machine shops. Many belong to industry associations, which have played an important role in their pivot.
The Trillium Network for Advanced Manufacturing is actively identifying and compiling information about Ontario manufacturers that have pivoted towards the production of these newly-critical goods. Some of this information is available in the table below. This information helps identify the wide range of manufacturers involved in mitigating the impacts of the COVID-19 pandemic. It also serves as the basis of our efforts to assess and disseminate the lessons learned from the experience of manufacturers that successfully pivoted. This includes the support they received from governments during their pivot and how they overcame challenges when attempting to pivot. We encourage firms to share their experience with us as part of this initiative.
We hope to update and augment this information daily and share it with government and industry stakeholders. For more information please contact Brendan Sweeney, Managing Director (manufacturing@trilliummfg.ca).
| Company Name | Location | Industry | COVID Product(s) |
| --- | --- | --- | --- |
| 10West Commercial Graphics | Oshawa | Graphics & Signs | Face Shields |
| 3D Printing Canada | Hamilton | Additive Manufacturing | Face Shields |
| Aalbers Tool & Mold | Tecumseh | Tooling and Automation | Medical Devices (Tooling) |
| Aarkel Tool and Die | Wallaceburg | Tooling and Automation | Medical Devices |
| ABC Technologies | Brampton | Automotive Parts | Medical Devices, PPE |
| ABS Friction | Guelph | Friction Products | Medical Devices |
| AceTronic Industrial Controls | Mississauga | Tooling and Automation | Medical Devices (Tooling) |
| Acrolab Limited | Windsor | Tooling and Automation | Medical Devices, Masks, Sanitizer (Tooling) |
| All or Nothing Brewhouse | Oshawa | Brewery | Sanitizer |
| Answer Precision Tool | Kitchener | Tooling and Automation | PPE |
| Anubis 3D | Mississauga | Additive Manufacturing | Face Shields |
| Apotex Pharmachem | Brantford | Pharmaceuticals | Sanitizer |
| Armo-Tool | London | Tooling and Automation | PPE |
| ARO Technologies | Collingwood | Tooling and Automation | Face Shields |
| Array Marketing | Toronto | Retail Fixtures | Face Shields, Barriers |
| Astound | Oakville | Commercial Fixtures | Barriers |
| ATS Automation | Cambridge | Tooling and Automation | Medical Devices |
| Audacia Bioscience | Windsor | Healthcare Products | Test Kits |
| Autoliv | Tilbury | Airbag Assemblies | PPE |
| AV Gauge & Fixture | Tecumseh | Tooling and Automation | Face Shields |
| AVL Manufacturing | Hamilton | Metal Fabrication | Medical Enclosures |
| Axiom Group | Aurora | Automotive Parts | Face Shields |
| B-Con Engineering | Ottawa | Optical Systems | Face Shields |
| Barbarian Sportswear | Kitchener | Clothing and Apparel | Masks |
| BASF | Windsor | Chemicals | Sanitizer |
| Bathing Belle Swimwear | Toronto | Swimwear | Masks |
| Battlefield International | Cayuga | Aerospace Components | Medical Devices |
| Baxter International | Alliston | Medicine | Medicine |
| Baylis Medical | Mississauga | Medical Devices | Medical Devices |
| Baytech Plastics | Midland | Plastics | Medical Equipment |
| Beattie's Distillers | Alliston | Distillery | Sanitizer |
| Beau's All Natural Brewing Company | Vankleek Hill | Brewery | Sanitizer |
| Beauti-Tone Paint | Burford | Paint | Sanitizer |
| BGI Retail | Brant County | Retail Fixtures | Barriers |
| Black's Distillery | Peterborough | Distillery | Sanitizer |
| Bombardier | Thunder Bay | Trains | Medical Devices |
| Brentwood Classics | Vaughan | Furniture | Masks |
| Brian's Custom Sports | Kingsville | Sporting Goods | PPE |
| Bri-Eck Machine and Tool | London | Tooling and Automation | Face Shields |
| Brock Street Brewing | Whitby | Brewery | Sanitizer |
| Brooks Signs | Brant County | Signs | Barriers |
| BTNX | Markham | Medical Devices | Test Kits |
| Build-A-Mold (Plasman Group) | Tecumseh | Tooling and Automation | Medical Devices, Face Shields |
| Burloak Technologies | Oakville | Additive Manufacturing | Face Shields |
| Campio Group | Vaughan | Furniture | PPE |
| Canada Goose | Toronto | Clothing and Apparel | PPE |
| Canada Mask Supply (RFP) | Mississauga | Furniture | Masks |
| Canadian Mist Distillery | Collingwood | Distillery | Sanitizer |
| Canadian Yacht Tops | Inisfil | Marine Fabrics | Face Shields |
| Canplex Profiles | Port Perry | Plastics | Face Shields |
| Cavalier Tool & Manufacturing | Windsor | Tooling and Automation | Medical Devices |
| Celestica | Newmarket | Electronics | Medical Devices |
| CenterLine | Windsor | Tooling and Automation | Medical Devices |
| ChemStation | Pickering | Chemicals | Sanitizer |
| CKF | Toronto | Packaging | Face Shields |
| Clean Works | Beamsville | Food Processing Equipment | Medical Equipment |
| CobraMask | Whitby | Sporting Goods | PPE, Masks |
| Collective Arts Brewing | Hamilton | Brewery | Sanitizer |
| Contract Pharmaceuticals (CPL) | Mississauga | Pharmaceuticals | Sanitizer |
| Cooper-Standard | London | Automotive Parts | Face Shields |
| Coppley Apparel | Hamilton | Clothing and Apparel | Masks |
| Crest Mold Technology | Windsor | Tooling and Automation | Medical Devices |
| Crosscut Distillery | Sudbury | Distillery | Sanitizer |
| Crystal Fountains | Toronto | Fountains | Medical Devices |
| Daft Brewing | Kingston | Brewery | Sanitizer |
| Dairy Distillery | Mississippi Mills | Distillery | Sanitizer |
| Danby Products | Guelph | Appliances | Medical Devices |
| Demtool | Petersburg | Metal Fabrication | Medical Devices |
| Dent-X Canada | Vaughan | Medical Devices | Face Shields, Masks |
| Design Plastics | Newmarket | Plastics | Face Shields |
| Dillon's Small Batch Distillers | Beamsville | Distillery | Sanitizer |
| Dixon's Distilled Spirits | Guelph | Distillery | Sanitizer |
| Domite Wear Technologies | Paris | Wear Resistant Products | Face Shields |
| Dunrobin Distillery | Dunrobin | Distillery | Sanitizer |
| Eclipse Automation | Cambridge | Tooling and Automation | Masks |
| Embassy Ingredients | Brampton | Bakery Ingredients | Sanitizer |
| En-Plas | Toronto | Tooling and Automation | Tooling and Automation (Medical) |
| Essex Weld Solutions | Essex | Metal Packaging | PPE |
| Fellfab | Hamilton | Technical Textiles | Masks |
| Fit 2 Fly | Toronto | Clothing and Apparel | Masks |
| Ford Motor Company | Windsor-Essex | Motor Vehicle Engines | Face Shields |
| General Motors | Oshawa | Automotive Parts | Masks |
| Great Lakes Brewery | Toronto | Brewery | Sanitizer |
| FORTAI | Sudbury | Mining Equipment | Medical Equipment |
| Handsome and Lace | Toronto | Clothing and Apparel | Masks |
| Harbour Technologies | Windsor | Tooling and Automation | Masks |
| Harco Enterprises | Peterborough | Plastics Parts | Face Shields |
| Heretic Spirits | Collingwood | Distillery | Sanitizer |
| Hilary MacMillan | Toronto | Clothing and Apparel | Masks |
| Hiram Walker & Sons | Windsor | Distillery | Sanitizer |
| Hi-Tech EDM | Vaughan | Automotive Parts | Face Shields |
| Honda | Alliston | Motor Vehicles | Face Shields |
| ICP Defense | Toronto | Technical Textiles | PPE |
| Industrial Filter Manufacturing | Penetanguishene | Industrial Filters | Masks |
| Ines Di Santo | Vaughan | Clothing and Apparel | PPE |
| Injection Technologies | Windsor | Plastic Components | Medical Devices |
| Inksmith | Kitchener | Educational Products | Face Shields |
| InnerSeasonings | Windsor | Sauces | Sanitizer |
| Innocente Brewery | Kitchener | Brewery | Sanitizer |
| Innovative Automation | Barrie | Tooling and Automation | Face Shields, Medical Devices |
| Innovatools Canada | Vars | Tools | Face Shields |
| INPS OEM Solutions | London | Signs and Graphics | Face Shields |
| Integrity Tool and Mold | Windsor | Tooling and Automation | Medical Devices |
| Interspec Systems | Rosemont | Hospital Furniture | Hospital Furniture |
| Ipex | Various | Pipes | Face Shields |
| Iridian Spectral Technologies | Ottawa | Optical Technology | Medical Devices |
| Jacobs & Thompson | Toronto | Foam Products | Face Shields |
| Javelin Technologies | Oakville | Additive Manufacturing | Face Shields |
| Jewlr | Toronto | Jewelry | Face Shields |
| JMP Engineering | Cambridge | Engineering | Medical Devices |
| Junction 56 Distillery | Stratford | Distillery | Sanitizer |
| Kalaya | Cambridge | Beauty Products | Sanitizer |
| Kawartha Ethanol | Havelock | Ethanol | Sanitizer |
| Kinsip House of Fine Spirits | Bloomfield | Distillery | Sanitizer |
| Labatt Brewery | London | Brewery | Sanitizer |
| Last Straw Distillery | Vaughan | Distillery | Sanitizer |
| Laval International | Tecumseh | Tooling and Automation | Masks |
| L-D Tool and Die | Ottawa | Tooling and Automation | Test Kits |
| Liburdi Group | Hamilton | Tooling and Automation | PPE |
| Linamar | Guelph | Automotive Parts | Medical Devices |
| Lind Equipment | Markham | Lighting | Medical Equipment |
| Linear Transfer Automation | Barrie | Tooling and Automation | Face Shields |
| Mabel's Labels | Hamilton | Labels | PPE, Retail Signage |
| Macfab Manufacturing | Mississauga | Machined Components | Medical Devices |
| Mack Media | Toronto | Printing | Face Shields |
| Magna International | GTA | Automotive Parts | Medical Devices |
| Magnotta Winery | Vaughan | Winery | Sanitizer |
| Martinrea International | GTA | Automotive Parts | Medical Devices |
| Mas Precision Plastics | Whitby | Plastic Products | Barriers, Face Shields |
| McCarthy Uniforms | Toronto | Clothing and Apparel | PPE |
| Merit Precision | Peterborough | Plastic Parts | Face Shields |
| MHI Canada Aerospace | Mississauga | Aircraft Structures | Face Shields |
| Mind Your Bees | Hamilton | Packaging | Masks |
| Mitchell Plastics | Kitchener | Automotive Parts | Face Shields |
| Molded Precision Components | Oro-Medonte | Plastic Injection Molding | Face Shields, Medical Devices |
| Murphy's Law Distillery | Elmira | Distillery | Sanitizer |
| Myant | Toronto | Textiles | PPE |
| Muskoka Brewery | Gravenhurst | Brewery, Distillery | Sanitizer |
| MW Canada | Cambridge | Window Coverings | Medical Fabrics |
| Napoleon | Barrie | BBQs | Face Shields |
| NeoVision Technology | Tecumseh | Tooling and Automation | Face Shields, Medical Devices (Tooling) |
| New Ontario Brewing | North Bay | Brewery | Sanitizer |
| Niagara Falls Craft Distillers | Niagara Falls | Distillery | Sanitizer |
| Niko Apparel Solutions | Hamilton | Clothing and Apparel | Masks |
| Norgen Biotek | Thorold | Biotechnology | Test Kits |
| Norfolk Knitters | Port Dover | Clothing and Apparel | PPE |
| North Design Build | Hamilton | Retail Displays | Face Shields |
| North of 7 Distillery | Ottawa | Distillery | Sanitizer |
| OG Distillery | Larder Lake | Distillery | Sanitizer |
| Oh Beehive | Barrie | Packaging | Masks |
| Omega Tool | Tecumseh | Tooling and Automation | Medical Devices (Tooling) |
| Omnify Lightning | Markham | Lighting | Face Shields |
| Original Bug Shirt Company | Powassan | Clothing and Apparel | Masks |
| O-Two Medical Technologies | Brampton | Medical Devices | Medical Devices |
| PCL Graphics | Markham | Graphics and Printing | Face Shields |
| Peak Processing | Windsor | Cannabis Products | Sanitizer |
| Pepprell Distilling | Moorefield | Distillery | Sanitizer |
| Persian Empire | Peterborough | Distillery | Sanitizer |
| Pine Valley Packaging | Uxbridge | Packaging | PPE |
| Plas-Tech | Vaughan | Plastics | Face Shields, Barriers |
| Precision Biomonitoring | Guelph | DNA Testing Kits | Test Kits |
| Premier Canadian Mint | Newmarket | Coins | Masks |
| Prescientx | Cambridge | Medical Equipment | Medical Equipment |
| Progressive Industrial Fluids | Mississauga | Industrial Lubricants | Sanitizer |
| Promation | Oakville | Tooling and Automation | Face Shields |
| Redline Brewhouse | Barrie | Brewery | Sanitizer |
| RegattaSport | St. Catharines | Clothing and Apparel | Masks |
| Reid's Distillery | Toronto | Distillery | Sanitizer |
| REKO International | Lakeshore | Tooling and Automation | Face Shields |
| Rheault Distillery | Hearst | Distillery | Sanitizer |
| Robco | Mississauga | Machined Components | Face Shields |
| Roots | Toronto | Clothing and Apparel | Masks |
| Rose Integration | Carleton Place | Aerospace Components | Masks |
| Royal Canadian Mint | Ottawa | Coins | Sanitizer, Face Shields |
| RWDI | Guelph | Engineering | Face Shields |
| Silver Fox Distillery | Arthur | Distillery | Sanitizer |
| Spartan Bioscience | Ottawa | Medical Devices | Test Kits |
| Spring Mill Distillery | Guelph | Distillery | Sanitizer |
| StarFish Medical | Toronto | Medical Devices | Medical Devices |
| Sterling Industries | Vaughan | Medical Devices | Medical Devices |
| Techform (Magna) | Penetanguishene | Automotive Parts | Medical Devices |
| Tempur Sealy Canada | Toronto | Matresses | Face Shields |
| Thawrih | Ottawa | Clothing and Apparel | Masks |
| Salus Marine Wear | Waterloo | Flotation Devices | PPE |
| Select Tool | Tecumseh | Tooling and Automation | Medical Devices (Tooling) |
| Service Mold + Aerospace | Windsor | Tooling and Automation | Medical Devices |
| Shaver Industries | Kitchener | Industrial Enclosures | Face Shields |
| Shell Canada | Sarnia | Petroleum Products | Isopropyl Alcohol |
| Shepherd Thermoforming & Packaging | Brampton | Plastics | Face Shields |
| Siemens Milltronics | Peterborough | Tooling and Automation | Face Shields |
| Sleeping Giant Brewing Company | Thunder Bay | Brewery | Sanitizer |
| Soffi Lighting | Windsor | Lighting | Face Shields |
| Southmedic | Barrie | Medical Devices | Medical Devices, Face Shields |
| Spirit of York Distillery | Toronto | Distillery | Sanitizer |
| Stadco Polyproducts | Mississauga | Medical Supplies | PPE, Masks |
| St. Jacobs Quilt Co. | St. Jacobs | Textiles | PPE |
| Stelvio Brands | Toronto | Automotive Parts | Face Shields |
| Sunspace Sunrooms | Newcastle | Sunrooms | Barriers |
| Superior Glove | Acton | Gloves | Face Shields, Sanitizer |
| Superior Tool and Mold | Tecumseh | Tooling and Automation | Face Shields |
| Systems Environmental Products | Grimsby | Agricultural Equipment | Medical Equipment |
| Surridge Sheet Metal | Toronto | Metal Fabrication | Barriers |
| Thames River Chemical | Burlington | Chemical | Sanitizer |
| Thornhill Medical | Toronto | Medical Devices | Medical Devices |
| Three H Furniture Systems | New Liskeard | Furniture | Barriers, PPE |
| Thunder Bay Hydraulics | Thunder Bay | Hydraulic Equipment | Sanitizer |
| Tilley Endurables | Toronto | Clothing and Apparel | PPE |
| Top Shelf Distillers | Perth | Distillery | Sanitizer |
| Tri-Mach Group | Waterloo | Tooling and Automation | Sanitary Barriers |
| Tristar Coatings | Brampton | Specialty Paint | Sanitizer |
| Triumph Tool | Guelph | Tooling and Automation | Medical Devices (Tooling) |
| Trudell Medical | London | Medical Devices | Medical Devices |
| True North Printed Plastics | Bracebridge | Printed Plastics | Face Shields |
| Trusscore | Palmerston | Building Materials | Barriers |
| Tsunami Glassworks | Windsor | Glass Products | Face Shields |
| Valiant TMS | Windsor | Tooling and Automation | Face Shields |
| VanDerZwaag Machining & Development | Waterloo | Additive Manufacturing | PPE |
| Vexos | Markham | Electronics | Medical Devices |
| Virox Technologies | Oakville | DIsinfectants | Disinfectants |
| VistaPrint | Lakeshore | Printing | Face Shields |
| Vista Solutions | Windsor | Tooling and Automation | Medical Devices |
| Viva Healthcare Packaging | Toronto | Packaging | Face Shields, Masks |
| Ventra Plastics | Peterborough | Automotive Parts | Face Shields |
| Waterloo Brewing Company | Kitchener | Brewery | Sanitizer |
| Whitebird | Hamilton | Packaging | Face Shields |
| Whitney Plastics | Lindsay | Plastic Packaging | Face Shields |
| Willibald Farm Distillery | Ayr | Distillery | Sanitizer |
| Windsor Mold | Windsor | Automotive Parts | Face Shields |
| Wolfhead Distillery | Amherstburg | Distillery | Sanitizer |
| Woodbridge Foam | Vaughan | Automotive Parts | Masks |
| Yongehurst Distillery | Toronto | Distillery | Sanitizer |
| Yorkville Sound | Pickering | Audio Equipment | Medical Devices |
| XL Tool | Kitchener | Tooling and Automation | Medical Devices |