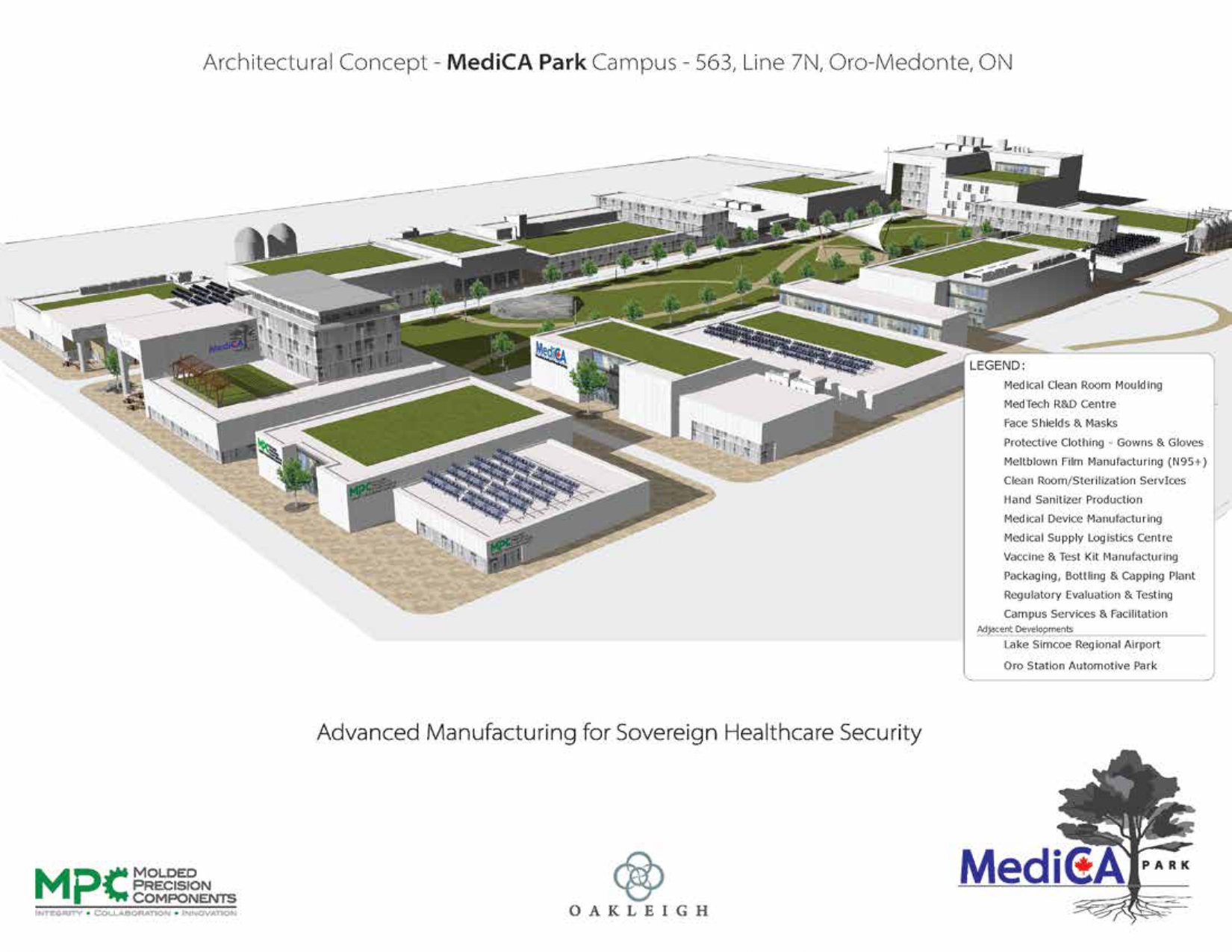 News
Oro-Medonte MediCA Park enhances supply chain security, fuels innovation
What good is a plan if it's anything but ambitious?
That said, to describe MediCA Park currently being conceptualized in Oro-Medonte as ambitious may be an understatement. Led by David Yeaman, the President of Molded Precision Components (MPC), the proposed MediCA Park is designed to combine the expertise of government and academia with the innovative capacity, hustle and logic of the private sector. All of this will come together in a vertically integrated advanced manufacturing ecosystem that is anticipated to generate up to 2,000 construction jobs and 1,400 well-paying manufacturing-related jobs as MediCA Park develops. This will reduce Ontario's dependence on imports, improve supply chain security, and enhance Canada's emergency response capabilities.
MPC gained acclaim as one of the first manufacturers to 'pivot' towards the production of PPE during the early weeks of the COVID-19 pandemic. Drawing on their expertise in scientific injection moulding and with support from NGen and FedDev, the company collaboratively manufactured over 27 million face shields, many for use by frontline healthcare workers. As other manufacturers mobilized and pivoted during the pandemic, MPC was inundated with requests for other important healthcare products, including bottles and caps for hand sanitizer. Amid these supply chain challenges, Yeaman and his team recognized the opportunity to strengthen domestic production capabilities. This resulted in the concept of a vertically integrated advanced manufacturing and innovation park capable of producing everything from hand sanitizer to sterile packaging, to N95 masks and potentially even vaccines.
The 83 acre property on which MediCA park will be situated is located within the Lake Simcoe Regional Economic District. Under Ministerial Zoning Order (MZO), the park received zoning approval in short order, gaining largely unanimous support from municipal, regional, and provincial governments. While Yeaman and MPC are leading the charge, MediCA Park is the result of collaborations between several manufacturers, government agencies, and non-profit organizations. As well as being a significant part of MPC's future growth into medical and healthcare products, other manufacturers have expressed interest in relocating to MediCA Park for production of PPE, medical devices, and modular cleanrooms.
Next Generation Manufacturing Canada (NGen) recently announced support for an MPC-led project (via NGen's supply chain challenge and in partnership with Niigon Machines) to create an automated system capable of producing and packaging hand sanitizer through a newly developed continuous process. Yeaman anticipates that this system will be among the most important participants in the MediCA Park development. He also notes that while MediCA Park has developed an early critical mass of partners, there are still numerous opportunities for manufacturers, including automation and equipment technologies, biopharmaceutical companies, academic institutions, and government partners to get involved.
The Trillium Network for Advanced Manufacturing and the County of Simcoe are excited about MediCA Park. According to County of Simcoe Warden George Cornell:
"The County is committed to growing our economy and assisting businesses that bring investment and job creation to our region. Our vision for the Lake Simcoe Regional Airport Economic District as a key driver of growth is starting to take flight, and we're pleased that our region has been chosen as the location of the collaborative 83-acre project. The MediCA park initiative is critical to address the growing medical needs brought on by COVID and other requirements, and we congratulate the MediCA Park project team on designing this innovative, accessible, and secure location within our region. We look forward to working with them to continue to build Simcoe County as one of Ontario's growing manufacturing hubs."
According to Jayson Myers, the CEO of NGen:
"The advanced manufacturing projects that NGen supports combine some of the best in knowledge, technologies and production capability that Canada has to offer. The development of MediCA Park will help to build upon MPC's culture of collaboration and will enable Canadian companies to create leading edge solutions at home that can be leveraged to capture new global market opportunities and guarantee the supply of critical medical products when needed here in Canada."
We will be collaborating with the County of Simcoe Economic Development Office throughout 2021 to bring you updates and insight into the development of what we anticipate will become a critical component of Ontario's advanced manufacturing ecosystem. Stay tuned for more information about this important initiative.
For more information about MPC and the MediCA Park.
Contact: David Yeaman (dyeaman@mpccomponents.com) 
About the Trillium Network for Advanced Manufacturing
The Trillium Network for Advanced Manufacturing is a provincially-funded non-profit organization dedicated to raising awareness of Ontario's advanced manufacturing ecosystem, with the intention of supporting growth and competitiveness. Our offices are located at Western University in London.
About the County of Simcoe Economic Development Office
The Economic Development Office works with Simcoe County's sixteen municipalities, the Cities of Barrie and Orillia, and with regional service providers to help businesses thrive and grow. In Simcoe County, experts in healthcare, technology, food processing, aerospace, automotive and more, work hard to design, refine and innovate solutions that impact lives well beyond our borders. Manufacturing is a thriving industry, employing thousands of talented people who are proud to put their stamp on the products and services they create. 
About NGen – Next Generation Manufacturing Canada
NGen is the industry-led not-for-profit organization that leads Canada's Advanced Manufacturing Supercluster. Its mandate is to help build world-leading advanced manufacturing capabilities in Canada for the benefit of Canadians. NGen works to strengthen collaboration among its membership of more than 3,100 manufacturers, technology companies, innovation centres, and researchers, and provides funding and business support to industry-led initiatives that aim to develop, apply, or scale-up transformative manufacturing solutions in Canada for commercialization in global markets.