News
New TrilliumGIS feature maps Ontario pet food manufacturers
Ontarians love their pets. If we at the Trillium Network know anything about these pets, it's that they love food. And we bet that if your pets could talk, they would tell you that they prefer to eat food made in Ontario, by Ontario companies, using ingredients from Ontario.
If you agree, then you're in luck. Ontario is home to a robust pet food industry that has more than doubled in size since 2010, making it one of the fastest-growing segments of manufacturing in the province. The pet food manufacturing industry features more than 50 companies, many of which have grown over the past decade from small start-ups operating in barns and garages to full-scale manufacturers and exporters. Some of our favourite examples include Crump's Naturals (Mississauga), Bosco and Roxy's (London), and Big Country Raw (Smithville). These and other companies produce dry food, such as kibble, raw food, treats, and pet food ingredients. A growing number focus increasingly on foods made from non-GMO products.
Together these companies employ nearly 2,000 people, generate $1.3 billion in revenue annually, and contribute more than $630 million annually to Ontario's GDP. These companies export more than $500 million of pet food annually, most of which is destined for the United States. Pet food manufacturing also features a high economic multiplier, largely because Ontario companies rely primarily on agricultural inputs grown and raised in the province.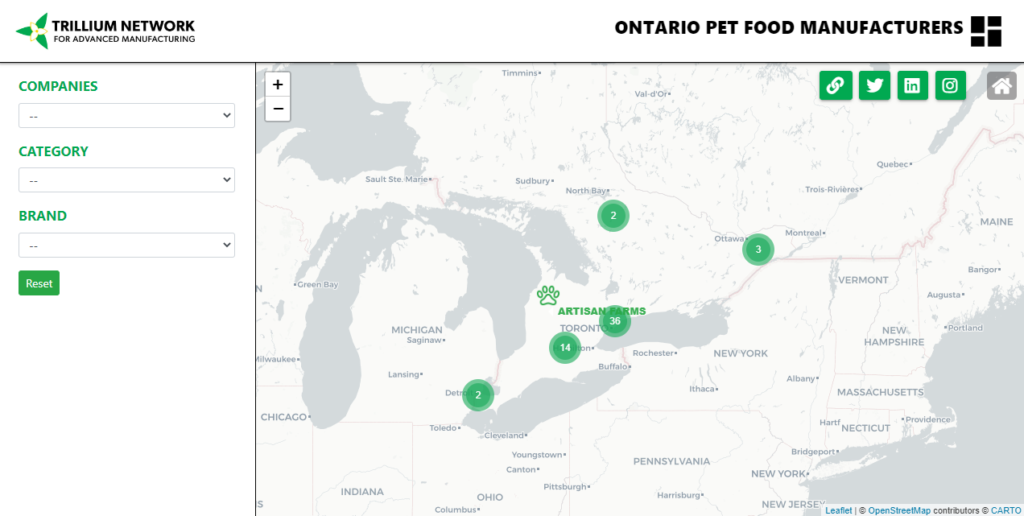 If you are a pet owner, veterinary professional, human society, SPCA, dog or cat rescue organization, kennel, breeder, trainer, wholesaler, or retailer looking for Ontario-made pet food, you can locate the companies and their brands on our new interactive webmap. This webmap is part of our TrilliumGIS initiative, and provides the location of and information about more than 50 pet food manufacturers in Ontario.
If you are an Ontario pet food manufacturer that should be included on this map, please contact us. If you are an Ontario pet food manufacturer that is on the map and think we can help you spread the word, or if you are an aspiring pet food company looking for a manufacturing partner, please contact us to learn more.
The Trillium Network team loves our pets–this is pretty obvious for those of you who follow us on Instagram–and we prefer that they eat Ontario-made pet food. In honour of National Indigenous History Month, we partnered with Alderville First Nation's Shades of Gray Indigenous Pet Treats to donate $1,000 worth of food to the Humane Society London & Middlesex.
For more information about these companies, which are a vital component of Ontario's advanced manufacturing ecosystem, see the 'Ontario Pet Food Manufacturers' feature on TrilliumGIS.