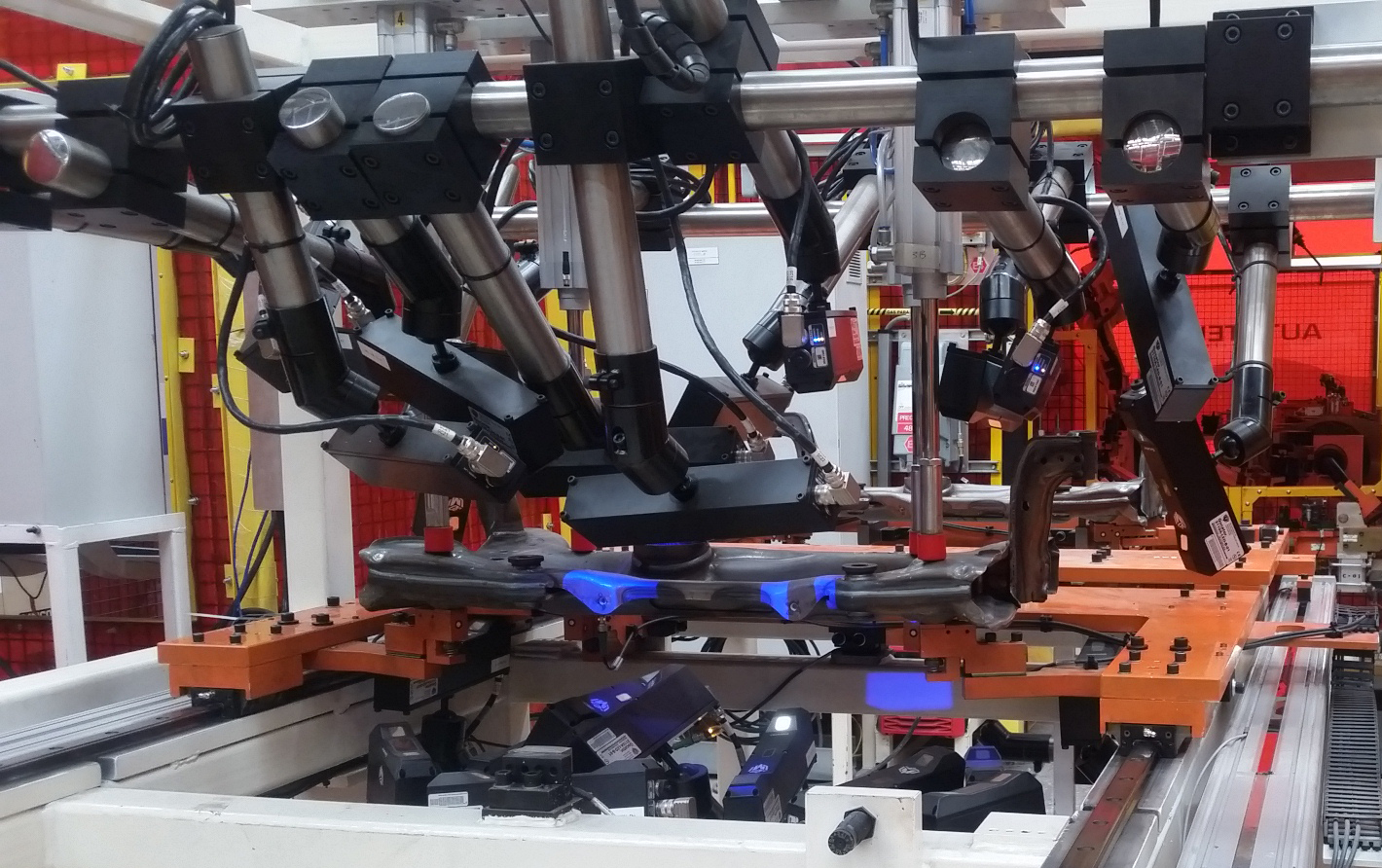 News
Assessing the risk of COVID-19 in Ontario manufacturing
By: Talissa Watson and Brendan Sweeney, PhD
As Ontario communities continue their phased-in approach to re-opening the economy, manufacturers have become increasingly preoccupied with maintaining the production of necessary goods while ensuring the safety of employees, contractors, and the general public. Manufacturing is a critical component of Ontario's economy, accounting for approximately 12 percent of GDP. Furthermore, according to a recent Trillium Network for Advanced Manufacturing study, Ontario is home to one of the most diverse manufacturing sectors in North America. The level of risk related to COVID-19 is similarly diverse across different segments of manufacturing. As such, manufacturers may require risk mitigation strategies tailored to each segment.
The purpose of this project is to assess the level of risk faced by different sectors and sub-sectors of Ontario manufacturing. Some recent work, notably that of Green, Siu, and their colleagues at the University of British Columbia, provides a useful starting point for such assessments. However, our goal was to develop a tool that incorporates multiple variables that reflect the reality of production and employment in specific sub-sectors of manufacturing. This may inform and support efforts to develop sector-specific strategies to mitigate risk.
The modelled results are generally consistent with the experiences of Ontario manufacturers during the COVID-19 pandemic. Food manufacturing industries – especially meat processing and bakeries – ranked high on our risk assessment index. The automotive industry also ranked high, largely due to the large number of persons working on-site and the substantial proportion of production-focused employees relative to professional and managerial employees. However, the sophisticated and proactive approaches taken by automotive industry stakeholders is proving highly successful in mitigating risk. Continuous process industries, such as petro-chemical manufacturing, tended to rank low, as did pharmaceutical and aerospace product manufacturing.
The Trillium COVID-19 Risk Assessment Index
We used four variables to assess the level of risk in specific sub-sectors of Ontario manufacturing. These include:
Capital Intensity. The more capital intensive, the lower the level of risk (and vice versa).
Ability to Work Remotely. The higher the proportion of employees that are able to work remotely some or most of the time, the lower the level of risk.
Employee Behaviour. Many employees may have the ability to work remotely, but do not. The more likely an employee who is able to work remotely actually does work remotely, the lower the level of risk.
Work Context and Activities. A number of contextual factors impact an employee's level of risk. These include exposure to contaminants, the extent to which they handle materials, the use of personal protective equipment (PPE), and the extent to which they interact with others. These are all important factors in assessing risk.
To develop the index, we assigned a weight to each variable in order to compute a score for each segment. The indexed scores ranged from 0 to 100, where the higher the score, the greater the risk. In general, we found that occupational characteristics within a sub-sector played a more significant role in the level of risk within an industry than did capital intensity. This is evidenced by the high ranking attributed to the highly-capital intensive automotive industry, where a small proportion of employees are able to work remotely, large numbers employees work in relatively close proximity, and employees are required to handle material frequently. Download the full review of our methodology.
Results
The graphic immediately below illustrates the assessed level of risk within different sectors and sub-sectors of Ontario manufacturing relative to those sectors' proportion of manufacturing employment. (Note that only 11 sectors of Ontario manufacturing are illustrated – these sectors span 53 sub-sectors that comprise over 80 percent of Ontario manufacturing employment when combined). As is evident, many of the largest sub-sectors of Ontario manufacturing in terms of employment – specifically those within transportation equipment and food manufacturing – rank among the highest according to our index. These data are also available in the sortable/searchable table at the bottom of this post.
Note: the interactive graphic is optimally viewed in landscape/horizontally on phones and/or tablets.
Implications
The Trillium COVID-19 Risk Assessment Index provides detailed insight into the level of risk within manufacturing industry sub-sectors in the context of the COVID-19 pandemic. While capital intensity is a factor, the occupational characteristics of each sub-sector are most relevant.
Many manufacturers have developed new protocols to mitigate risk and keep employees safe as the result of the COVID-19 pandemic. Automotive industry employers provide an excellent example of the types of practices and protocols that are effective in mitigating risk, and should be lauded for their proactive efforts. The food manufacturing industry – especially meat processing and bakeries – may find value in exploring similar approaches customized for context, and to do so in a timely manner. Maple Leaf Foods, one of Canada's largest manufacturing employers, has published a guidebook similar in intent to those published by automotive manufacturers such as General Motors, Ford, and Magna (Canada's largest manufacturing employer).
It is also possible that many of the new protocols and practices implemented to mitigate risk during the COVID-19 pandemic will become the 'next normal'. If this is indeed the case Ontario manufacturers' demand for PPE will be substantial. This index can help manufacturers, governments, and other stakeholders forecast the demand for PPE, which could potentially lay the groundwork for local investments in PPE manufacturing capacity. Moreover, the index can be modified to assess the risk in other important sectors of Ontario's economy, such as healthcare, power generation, education, and retail.
Manufacturing is critical to Ontario's well-being. It is thus critical to mitigate the risks present within all sectors and sub-sectors of manufacturing in order to ensure public health and maintain the production of important goods. Better understanding risk plays an important role here, and we are looking forward to learning more about the practices and protocols that firms implement to mitigate risks in the near future.
| Sector | Sub-Sector | Score | Employment |
| --- | --- | --- | --- |
| Food | Meat Products  | 100 | 20,866 |
| Transportation Equipment | Motor Vehicles | 97.24 | 37,658 |
| Food | Bakeries & Tortillas | 97.08 | 23,738 |
| Primary Metals | Foundries | 92.5 | 4,257 |
| Transportation Equipment | Motor Vehicle Bodies & Trailers  | 90.22 | 4,512 |
| Metal Fabrication | Machine Shops | 89.05 | 14,908 |
| Primary Metals | Alumina & Aluminum Products | 87.99 | 2,725 |
| Metal Fabrication | Forging & Stamping | 87.49 | 3,633 |
| Plastic & Rubber Products | Rubber Products  | 87.42 | 5,477 |
| Transportation Equipment | Motor Vehicle Parts  | 87.39 | 66,416 |
| Food | Seafood Products | 87.37 | 634 |
| Furniture & Related Products | Household Furniture & Cabinetry | 87.25 | 13,274 |
| Primary Metals | Iron & Steel Mills | 85.2 | 13,276 |
| Plastic & Rubber Products | Plastic Products  | 85.03 | 43,235 |
| Metal Fabrication | Coating, Engraving, Cold & Heat Treating | 84.59 | 5,884 |
| Food | Sugar & Confectionery Products  | 80.14 | 4,109 |
| Metal Fabrication | Architectural & Structural Metals  | 80.07 | 22,609 |
| Metal Fabrication | Spring & Wire Products  | 79.98 | 2,035 |
| Metal Fabrication | Boiler, Tank & Shipping Containers | 79.75 | 4,250 |
| Food | Dairy Products  | 78.88 | 9,855 |
| Primary Metals | Steel Products  | 78.71 | 4,542 |
| Furniture & Related Products | Other Furniture Related Products  | 77.44 | 1,888 |
| Food | Fruit, Vegetable & Specialty Food Products | 76.17 | 6,256 |
| Machinery | Metalworking Machinery  | 75.71 | 15,683 |
| Furniture & Related Products | Office Furniture (Including Fixtures)  | 74.71 | 13,108 |
| Metal Fabrication | Hardware | 74.21 | 4,513 |
| Primary Metals | Non-Ferrous Metals (Except Aluminum) | 74.17 | 4,285 |
| Food | Other Food Products | 72.26 | 13,917 |
| Metal Fabrication | Cutlery & Hand Tools | 71.24 | 12,339 |
| Transportation Equipment | Railroad Rolling Stock | 69.18 | 3,074 |
| Food | Grain & Oilseed Milling | 68.2 | 3,087 |
| Machinery | HVAC & Refrigeration Equipment  | 66.81 | 6,158 |
| Chemicals | Resin & Synthetic Rubber, Fibres & Filaments | 65.43 | 2,914 |
| Machinery | Agricultural, Construction & Mining Machinery  | 64.45 | 9,109 |
| Food | Animal Food | 63.41 | 4,150 |
| Beverage & Tobacco Products | Beverage & Tobacco Products | 60.23 | 20,223 |
| Machinery | Engine, Turbine & Power Transmission Equipment  | 57.19 | 1,608 |
| Miscellaneous Products | Other Miscellaneous Products | 56.54 | 15,869 |
| Chemicals | Paint, Coatings & Adhesives | 56.07 | 3,808 |
| Petroleum & Coal Products  | Petroleum & Coal Products  | 55.93 | 6,750 |
| Machinery | Other General-Purpose Machinery  | 54.58 | 16,468 |
| Chemicals | Soap, Cleaning & Toilet Preparation Products | 50.54 | 9,657 |
| Chemicals | Pesticide, Fertilizer & Agricultural Chemicals | 48.38 | 1,539 |
| Chemicals | Other Chemicals  | 48.26 | 5,025 |
| Transportation Equipment | Aerospace Products & Parts  | 44.75 | 14,145 |
| Chemicals | Basic Chemicals  | 40.41 | 5,927 |
| Machinery | Industrial, Commercial & Service Industry Machinery | 38.22 | 14,926 |
| Computers & Electronics | Semiconductor & Other Electronic Components | 35.42 | 7,856 |
| Miscellaneous Products | Medical Equipment & Supplies  | 21.94 | 10,019 |
| Chemicals | Pharmaceuticals & Medicine  | 20.08 | 15,623 |
| Computers & Electronics | Communications Equipment  | 13.3 | 6,783 |
| Computers & Electronics | Other Electronic Products | 12.78 | 6,430 |
| Computers & Electronics | Computer & Peripheral Equipment  | 0 | 3,972 |