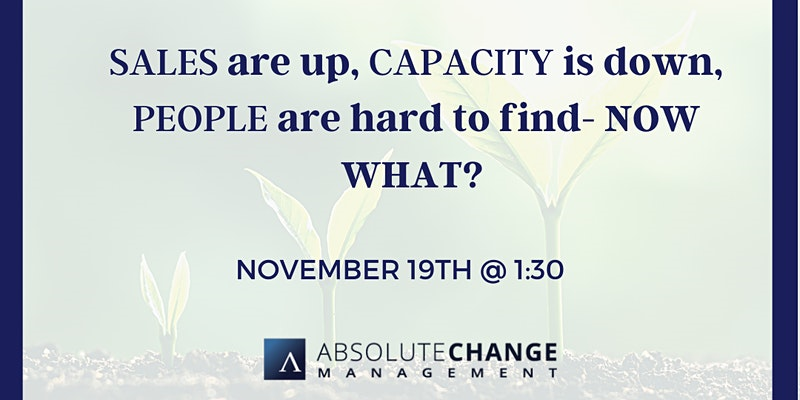 ACM Presents: Sales are up, Capacity is down, Can't find workers, Now What?
Learn about strengthening workforce retention and upskilling in your company through this virtual session with Absolute Change Management.
About this event
From experience with clients across Canada, the United States and around the world, the discussion of capacity constraints, labour shortages along with the ability to attract, retain and engage employees are significant challenges that most employers are facing. The great news is that there are practical steps that you can take to turn these challenges into your strategic advantage as you learn to attract, retain and elevate your most valuable assets: your people!
Join David Peters and Aaron Tisdelle as they share insights and experiences that have proven results in elevating their employees into high performing teams that were able to exceed goals, do more with less stress, while reducing turnover and downtime.
More About the Hosts..
Dave Peters
Peters, the owner and President of Absolute Change Management, has spent the past 23 years refining a world class process elevation, onboarding and employee engagement system that has been successfully leveraged by manufacturers of all sizes, private and publicly traded, locally and globally. ACM has been built on five core principles: Reason, Opportunity, Respect, Listening and Fun.
Aaron Tisdelle
Aaron Tisdelle, the President of Girotti Machine and a 3rd generation family owner, is a vision driven leader focused on creating a culture where the team is enabled to learn, make decisions and perform at the leading edge of their industry, taking on projects no-one else can, to solve their customer's problems.
Please note that this session will be recorded on Friday, November 19th, 2021 and will be available for viewing at a later date on the NIA Website!
Following these presentations will be a brief Q&A session where all attendees will have the opportunity to ask questions to Dave and Aaron.
Click here to register for this event and be a part of this exciting discussion!