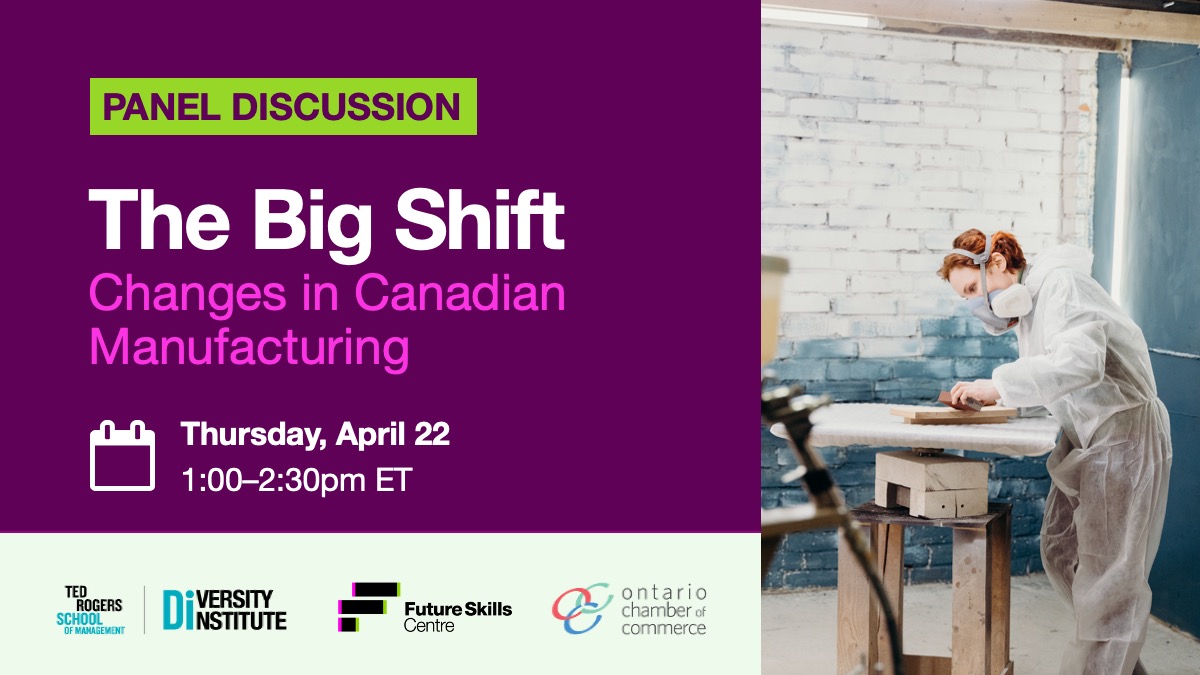 The Big Shift: Changes in Canadian Manufacturing (Bilingual Event)
Join us for a bilingual event on April 22 from 1-230 pm – Live French translation will be available.
About this Event
Join us on April 22 from 1pm – 230 pm for a bilingual event. Click here for more information.
A big shift continues to run through Canada's manufacturing sector. The geographic distribution of these jobs is increasingly uneven, with a shift to higher-skilled jobs introducing greater barriers to entry.
Join the Diversity Institute and Ontario Chamber of Commerce on April 22 for an in-depth discussion on changes in Canadian manufacturing and why a skills agenda, with both basic and lifelong training systems on the job and in the classroom, is the key to future-proofing these industries.
This event will profile findings from an upcoming paper Industry 4.0, the future of work and skills: Building Collective Resources for the Canadian Aerospace Industry from the Diversity Institute, to be published in partnership with the Future Skills Centre, Interuniversity Research Centre on Globalization and Work (CRIMT), and the International observatory on the societal impacts of AI and digital technology, which highlights changes in the Canadian aerospace industry ahead of a panel discussion with various Aerospace and Manufacturing industry representatives.
Speakers:
Cassandra Bowkett, Postdoctoral researcher at HEC Montréal
Christian Lévesque, Professor at HEC Montréal and the co-Director of the CRIMT research network
Mike Moffatt, Senior Director, Policy and Innovation, Smart Prosperity Institute
Brendan Sweeney, Managing Director, Trillium Network for Advanced Manufacturing
Sosina Bezu, Senior Research Associate, Diversity Institute
And more to come!
Le grand tournant : Changements dans le secteur manufacturier canadien
Rejoignez-nous pour un événement bilingue le 22 avril de 13h00 à 14h30. Une traduction française en direct sera disponible.
À propos de cet événement
Un grand changement continue de traverser le secteur manufacturier du Canada. La répartition géographique de ces emplois est de plus en plus inégale, avec une évolution vers des emplois plus qualifiés introduisant de plus grandes barrières à l'entrée.
Joignez-vous au Diversity Institute et à la Chambre de commerce de l'Ontario le 22 avril pour une discussion approfondie sur les changements dans l'industrie manufacturière canadienne et pourquoi un programme de compétences, avec des systèmes de formation de base et de formation continue sur le lieu de travail et en classe, est la clé pour assurer l'avenir de ces industries.
Cet événement présentera les conclusions d'un document à venir intitulé Industrie 4.0, l'avenir du travail et des compétences: Renforcer les ressources collectives de l'industrie aérospatiale canadienne du Diversity Institute, qui sera publié en partenariat avec le Centre des Compétences futures, le Centre de recherche interuniversitaire sur la mondialisation et le travail (CRIMT) et l'Observatoire international sur les impacts sociétaux de l'IA et du numérique, qui met en évidence les changements dans l'industrie aérospatiale canadienne avant une discussion en groupe avec divers représentants de l'industrie aérospatiale et manufacturière.
Conférenciers :
Cassandra Bowkett, chercheuse postdoctorale à HEC Montréal
Christian Lévesque, Professeur à HEC Montréal et codirecteur du réseau de recherche CRIMT
Mike Moffatt, directeur principal, Politique et innovation, l'Institut pour l'IntelliProspérité
Brendan Sweeney, directeur général, Trillium Network for Advanced Manufacturing
Sosina Bezu, associée principale de recherche, Diversity Institute.
Et bien d'autres à venir